Choosing the right flooring for business can be a tough decision. You need to take into account the amount of wear your floor will take on a daily basis which can vary whether you are buying for an office or retail location. Our Flooring Consultants can help make it easy.
Long Lasting Durability
Withstands daily wear and tear
Many non-slip options
Stain resistant options
Innovative technologies
Variety of Styles
All flooring types available for your commercial flooring need
Hundreds of different commercial flooring options for showrooms, offices, retail stores, etc
We have professional installation crews!
ASK A FLOORING CONSULTANT FOR MORE INFO
Flooring built to
outlast high traffic
wear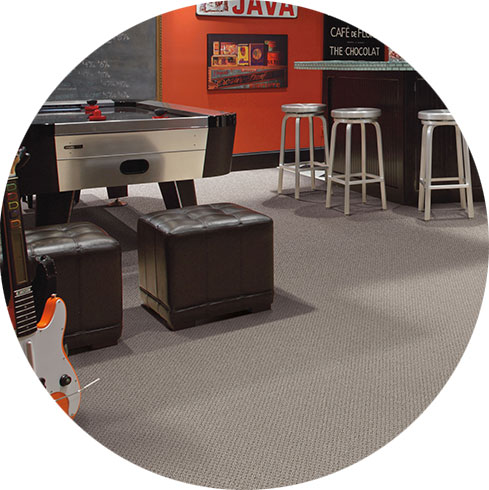 ---







Carpet / Modular Tile

Tough enough to handle high traffic or mobile furniture
Easy installation
Allows for a lot of creative freedom
Can be easily maintained by vacuum or sweeping
Stained or damaged tiles can be replaced without having to redo the whole area

Vinyl Plank & Vinyl Tile

Perfect blend of style & functionality
Stone or hardwood flooring is prone to damage or breakage & may be impractical for commercial spaces, vinyl plank & vinyl tile can mimic these looks
LVT & LVP can simulate grout lines, natural stone, textures, wood grains etc
Scuff, stain, gouge & water resistant

Carpet

Quiet
Comfortable
Easy to maintain (regular vacuuming, occasional shampoo)
Withstands extensive wear
Many style options

Vinyl
Tile
(VCT)

Maintains beauty under heavy foot traffic
Scuff & scrape resistant
Moisture & stain repellent
Economical installation & maintenance costs
In Stock there are several styles and flooring types to consider for your commercial space. Our large Warehouse Showroom displays many options. Call our Lloydminster flooring store or
request a quote!
COMMERCIAL FLOORING
-Options for All Types of Businesses -